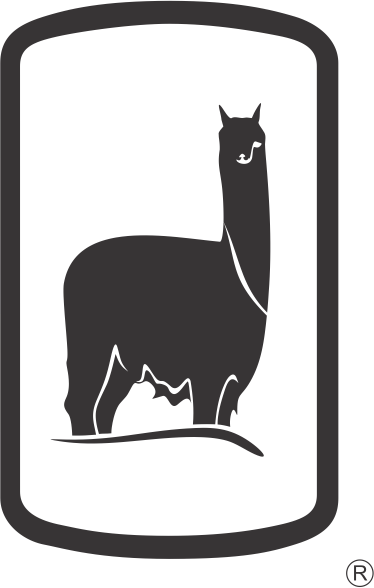 Green innovation
This article was originally posted at Twist, published by
WTiN - www.wtin.com
July 30, 2019

With almost 88 years at the heart of the alpaca fibre and textile industry, Michell & Cia., S.A., based in Arequipa, Peru, has long been committed to sustainability, and has consistently developed innovative new products and services which follow international standards.
Last year, as reported in Twist, the company introduced the world's first GOTS certified alpaca yarns. GOTS (Global Organic Textile Standard) is the international gold standard for textiles made from organic fibres. "We are the pioneer worldwide in the production of organic alpaca, and this certification is now in its second year", says Raul Rivera, marketing manager at Michell. "GOTS certification guarantees our customers, employees and alpaca breeders the organic condition of the products they receive, including how the raw material is obtained, each responsible process, and the ecosystem and social environment in which the raw material is sourced."
"This establishes the correct labelling of the finished product, thus guaranteeing that the final consumer has in his hands a safe and reliable product."
Rivera adds that GOTS certification is also helping Michell meet the growing demand for traceability.
"We work to guarantee and show to our customers we can track the origin of our fibres and also that we know how and where our raw materials are collected and made, from the alpaca breeder in the Peruvian highlands, to the workers in our factories, making sure neither people or animals are being damaged or abused through our production process."
Now Michell is aiming to build on its GOTS certification with Michell Labs, its new design and innovation hub, which is being used for designing yarn collections and developing new sustainability initiatives.
"Through Michell Labs we are prioritising innovation and taking care of our planet in order to give customers products that are natural, ecological, sustainable, renewable, biodegradable, traceable and ethical", Rivera explains. He points to a number of new ecologically sustainable processes and products which have been developed through Michell Labs.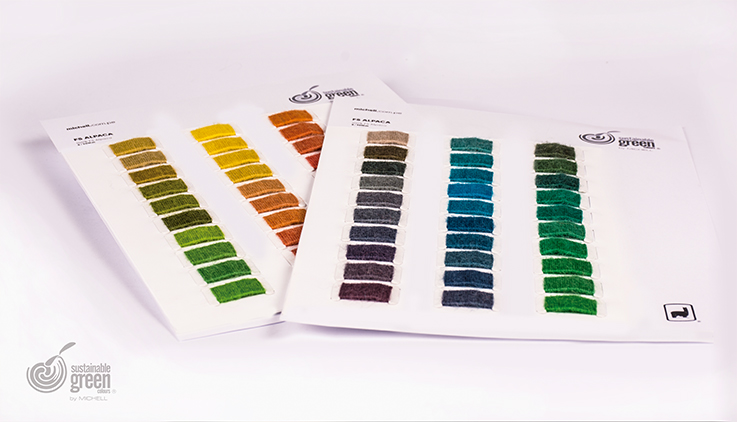 Sustainable Green Colours
These new colours are the result of Michell's commitment to offer a sustainable colour line that respects the environment.
"After researching the latest developments in dyestuffs, we were able to obtain a range of purified organic dyes from Italy that are used for the food and pharmaceutical industry", says Rivera.
"Thanks to their purity, these dyes are not toxic for those who handle them and use them, and do not harm the environment. Our dyestuff supplier for our Sustainable Green Colours is certified by GOTS, and the Standard 100 and Eco Passport certifications from Oeko-Tex. In addition, they comply with REACH. The dyes are free of amines, allergens and halogens."
"The colours achieved are bright and reproducible and their colour fastness meets international textile standards."
'Through Michell Labs we are prioritising innovation and taking care of our planet'
We are currently presenting a colour card that contains 60 hank dyed shades, but we can also offer top dyed shades to create melanges."
"Michell's Sustainable Green Colours are available only in 100% alpaca, 100% wool and blends of alpaca and wool. "
Sustainable Easy Wash Alpaca
This is an enzymatic treatment against shrinkage designed to allow the use of alpaca yarns in new products that require machine washing.
"With Sustainable Easy Wash Alpaca the natural character of the fibre is maintained, unlike other treatments that lose it because the fibre is covered with synthetic material", Rivera explains. "We obtain a cleaner, whiter fibre, compared to the yellowish colour acquired by other treatments."
Rivera stresses that the treatment is applied in an environmentally friendly manner. "All the treatment is free of chlorine, resins and sulfuric acid, so it does not present any kind of problem for tributaries," he says. "It also does not contain any type of harmful chemicals. Our supplier of these enzymes is certified by Oeko-Tex, bluesign and REACH."
He adds that the maximum shrinkage of the fibre with this treatment is only 7% to 8%. Sustainable Easy Wash Alpaca is suitable for hand knitting, machine knitting, hosiery and weaving.
Upcycle Yarns
Rivera notes that, according to a range of sources, for every 40 square metres of textile fabric produced in the world, six square metres of surplus fabric are wasted. "For this reason, we are presenting our new line of Upcycle Yarns, which aims to minimise the waste generated in the different production processes of top making and yarn spinning by applying new ways of using surplus material," he says. "Unlike recycling, upcycling does not destroy the materials in order to recompose them, but it gives them a new use without degrading them or decomposing them."
The Upcycle Yarn line features five qualities: Alpaca, Wool, Wool Superwash, Alpaca/Wool, and Alpaca/Silk/Tencel. Each quality can be developed in either classic and/or fantasy threads for use in hand knitting, machine knitting, or for weaving.
Worsted Spun Yarns
This new collection features yarns made from 100% cashmere and 100% yak. "These new Worsted Spun Yarns alternatives will give customers differentiation and value when working with these precious noble fibres," says Rivera. "It shows how we are thinking about meeting the needs of the current, through constant innovation and investment in new technologies."
"This is what characterises Michell", he adds.
• Michell will exhibit at M/2 on the bottom floor at Pitti Filati in Florence on 26-28 June, 2019.
• For more information about Michell go to www.michell.com.pe/michell Twist June/July 2019