Social Commitment
Peru Fair Trade
As part of a community, we seek to play a leading role in everyone's development. Having said that we plan to be an entity of social growth for our collaborators and all those actors who intervene around our industry.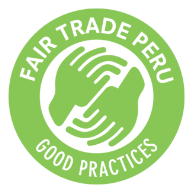 Since our beginnings we have followed and practiced the principles of fair trade However, we wanted to give a step forward by certifying our business practices.
Therefore, we started working in obtaining such certification, in February 2020 we passed the corresponding audits and by the end of April 2020, PromPeru confirmed that we achieved the Peru Fair Trade Certification for Business Practices. This has been renewed in May 2022 for another 2-year period.
Good working conditions.
We guarantee that our collaborators work in healthy and safe environments, and implements for their well-being, as well as train them to incorporate principles related to safety and health in their daily work. We offer them all the labour benefits established by law.
Development of capacities.
We constantly train our employees, so that they can do their work more efficiently.
Creation of opportunities for the community.
We seek to generate development opportunities for various sectors of the community related to us, for example:
A. APU Project:
The empowerment of women in rural communities is a key point within our social commitment. Thus, in the communities of Queracucho, Antauta and Ajoyani, at more than 4,000 meters above sea level, we have developed the APU project, which is a line of hand spun yarns and other items inspired by the techniques that the mothers and wives of the shepherds of these communities have shared with us, so that we obtain line and products that combines contemporary designs with ancestral tradition.
B. Michell Art Contest:
We have been promoting art in Peru for more than 40 years through the Michell Art Contest. It has evolved since it started as watercolor and oil paintings, but in the last 12 years it has focused on textiles. Our goal is to share and promote the rich Peruvian textile tradition that goes back more than 4,000 years, where 2 categories are promoted: traditional and creativity.
C. Mirasol School:
the Mirasol School is our most ambitious social and educational project to date. In 2007, it began the construction of the school with the objective of providing quality primary education to the children of the community of breeders near our alpaca farm in Muñani(Puno) and surroundings.
After its official opening in 2009, Mirasol became an educational center where its teachers are not only concerned with the mental development of the students, but also with their comprehensive development. There is a nutritional regimen designed by specialists in the field, as well as comprehensive health care. Similarly, the school fosters a culture of sustainable development and care for the environment.
Transparency and responsibility.
We have implemented and improved our internal and external communication processes to provide clear, complete, and timely information to those who need it
Fair business practices.
We verify that there are no abusive practices with suppliers, which they are complied with in their payments. Similarly, we seek to have long-term business relationships with them.
Promotion of Good Fair Trade Practices.
We believe that it is our responsibility to raise awareness among others inside and outside the organization about Good Fair-Trade Practices and their impact on business management, and we take action to achieve this.
Payment of the Fair price.
We guarantee that prices cover the costs of production, which the labour force receives a fair remuneration and that behind a low price, there is no exploitative labour scheme.
No discrimination.
We guarantee equal opportunities inside the company: We make no distinction of gender, ethnicity, or beliefs.
No to child labour.
We encourage children to study, play and live with dignity, avoiding any form of child labour or exploitation.
Respect for the environment.
We seek to protect the environment with low-impact production techniques, promoting the responsible consumption of resources, as well as the reuse, recycling, and reduction of raw materials in business and production management.